Shalimar Self Storage facility (formerly named "Shalimar Mini-warehouses") was first built in early 1990s to accomodate the storage needs of Shalimar residents. Subsequently, in response to growing storage demand, the two original partners in the business expanded the facility a few times, and it is now consists of over 200 units, mostly Indoors but also some Outdoor. Typical uses for the Indoor units including households storage, construction businesses with large equipment, wholesale business, or military transfers to/from the area. Outdoor space can store things such as jet-ski or small RV.
Shalimar Self Storage has been able to serve the community well, with its convenient location and well-maintained, clean and secured facility.  We have the BEST price for storage in the area. And our customers have access to the facility 365 days a year!
Shalimar Self Storage would like to thank all our customers for your support to date, and we look forward to serving more of you in the future.
Kim Do
Owner
Ms. Kim Do bought the business in late 2015, together with some partners. Kim has been a business lawyer for 20 years, including 8 years in Washington DC. Having lived in several big cities throughout her life, Kim loves the "small town" feel of Shalimar. At the same time, she appreciates very much all that Okaloosa county has to offer, from the gorgeous beaches of the Emerald Coast's white sand and breathtaking color, to the comfortable climate, clean air, and vibrant community of Fort Walton Beach.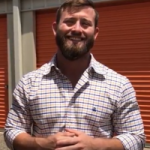 Colin Smith
Manager
My name is Colin Smith. I have over 8 years in the moving and storage industry. Started in Tallahassee, FL working for UHAUL Moving and Storage, while attending Florida State University in August of 2010. I received my own facility to manage on Beal Parkway in Fort Walton Beach, FL in 2013. The following year I was promoted to Area Field Manager and in charge of overseeing UHAUL's independent dealer network in the panhandle of Florida. Due to this, I have seen hundreds of storage facilities operated successfully, and unsuccessfully. I know what it takes to succeed, and I'm proud to say Shalimar Self Storage has what it takes to succeed. Locally born and raised, I truly look forward to bringing a higher standard of customer service in the storage industry to our community.
Member of the Greater Fort Walton
Beach Chamber of Commerce